Ruislip Lido
Construction and Early history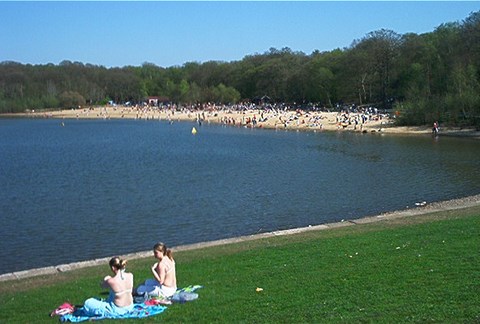 What we all today know as Ruislip Lido started life in 1811 as Ruislip Reservoir and was built as a feeder for the Grand Junction Canal, later, in 1933, to become the Grand Union Canal (Company), and thus our nearest canal being known by the name it has today.

The area selected was initially a shallow valley flanked by Park Wood to the south and a now non-existent hamlet of Park Herne to the "north", where the latter was demolished to make way for the reservoir as it was built. The whole area of the "lido" covers a little over 150 acres and the area of water itself can best be described, as "pear shaped", somewhat appropriately perhaps, for reason that follow.

John Rennie was the main engineer working on the construction, Hugh Mackintosh the constructor. On 5th December 1811 the project was announced as complete, by Rennie, and fears of problems with it leaking due to a sandy bed were not founded.

Those familiar with the geography of the area will realise that the canal is actually some distance from Ruislip and this required a channel to be made to feed the water from the reservoir to where it was to enter the canal at Hayes, some seven miles long. Exiting the reservoir in an underground pipe to the "west" the channel passes, generally, under Bury Street, under Ladygate Lane and on towards Tile Kiln Lane, whereupon the route is less clear until it surfaces again in Austins Lane, Ickenham. From here it runs into the fields adjacent to Northolt aerodrome and then under the A40 almost in parallel with the Yeading Brook (having already, at some point "crossed" the River Pinn). Once under the A40 it entered the waste land opposite Northolt Aerodrome, again with the Yeading Brook for company, before making its way to Yeading and then on down to Hayes, entering the canal at Hayes Bridge. The full length of the feeder no longer exists and parts of it were built on in the 1970's, fear of flooding these properties is thought to be the reason why the water level in the Lido, since 1990, has been kept artificially low, another thought is that by having lower levels should there be extensive rain in the area water can be diverted to the Lido from Northwood and alleviate flooding there.